Today the door was locked. I was working with the magic of chemistry to make my luscious handmade soap, and it gets a little hot. The lye gets to 195º F when it hits the water. So days when the production studio is closed to the public are good days for hot mess. Today's recipe is now in the oven, forcing the gel so the soap will be ready tomorrow rather than six weeks from now. It's a heavenly vanilla with lemon verbena and clary sage. I've added yogurt & aloe to love your skin. My soap and I will be at your beck & call at the Summer Solstice Wine Festival in Amherst, Virginia this weekend.
Once I was done pouring soap, I waited a while to let it set up before bringing it home to the oven. What to do? Lotion? Lip balms? Ahh, clay masks! I quickly whipped together a rose clay mask, with dried chamomile herb, rosewood essential oil, aloe powder, and a touch of bamboo powder to exfoliate at the end of your spa experience.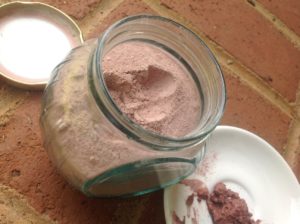 Oh. Mah. Gah. It's amazing. My skin glowed. It was polished. And did I remember to say that the clay is housed in a lovely Italian-made recycled glass jar. You just need the tiniest smidgen! I used a teaspoon and it would have been enough for my whole bod. One jar lasts approximately forever.
Tomorrow: purple clay with lavender, Rhassoul red-brown clay with frankincense, volcanic green clay with rosemary. Oh baby!
I open the apothecary doors to the public Wed-Sat. See you then!