This is the first in a series of posts about our beloved stockists. Today is about Annette Barrett.
Annette's warm, vibrant personal style is reflected in the cozy farmhouse ambiance of her two shops, Lacy's Florist in Orange and The Flower Cottage in Locust Grove, near Fredericksburg. Annette is a strategic thinker, and when the pandemic hit, she moved into action. Florists were not required to shut down, but they had to put safety first.
Working at warp speed and with fluid adaptability, Annette and her team made the social distancing transition look easy. The shop hours were reduced to allow time for intensive daily cleaning. A barrier went up in front of the checkout counter. The website was immediately updated to increase the online product selection. Curbside pickup and contact-less delivery of flowers, our own aromatics, and other gifts became the new normal.
The combination of efforts have been well-received, and now, both shops remain open with reduced hours.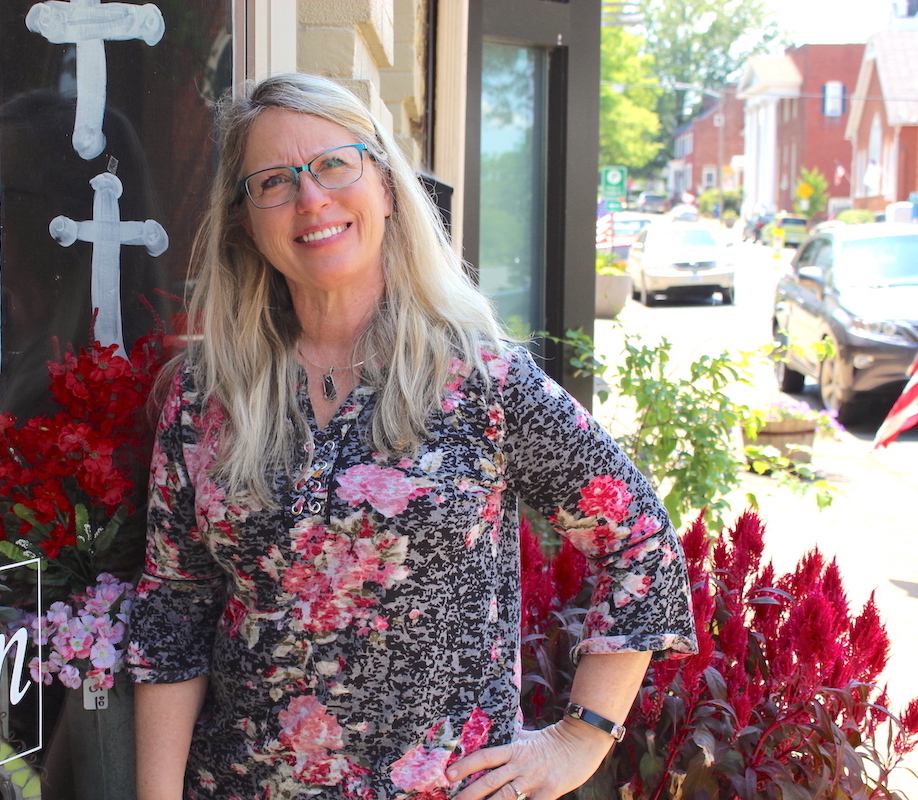 Interview with Annette:
What inspired you to take the leap as an entrepreneur?
My youngest child graduated from High School in 2011. When the opportunity came in 2012 to buy Lacy's, I decided it was time to do what I love, working with flowers.
How would you describe what you sell?
I am fortunate enough to have four different businesses within our little building at Lacy's.
Daily Fresh and Silk Arrangements: Our Bread and butter is still our artisan designed floral arrangements that we send out on a daily basis. Whether it is fresh or silk, our designs are beautifully done and a great example of the talent we are famous for at Lacy's Florist.
Gifts: Our Gift store has grown tremendously, and we continue to bring new, tasteful gifts that anyone would enjoy to give to others or as a treat for themselves. The Virginia Aromatics brand of soaps and candles has become so popular that we added them to our website offerings.
Formal Wear Rental: Lacy's has been renting tuxedos and suits for over 15 years. Although this year was the exception to the rule, we normally rent over 150-200 suits during the prom season. We are partnered with Jim's Formal wear and are proud to offer the largest selection in the nation.
Wedding Florals: Orange County has become a wedding destination and we are fortunate to have seen our weddings double, if not triple, in the last five years. We can offer beautiful florals and stunning men's formal wear to give our Bride and Groom the best possible package prices.
Walk us through a typical work day.
Our doors open at 9 and we are often greeted by early morning website and phone orders. Our normal team each day is two floral designers and at least one driver/front desk clerk.
We receive and process fresh flowers from our distributors every other day. This ensures our flowers are fresh and every arrangement is beautiful and lasts a long time. Processing of the arriving flowers is a manually intensive process but must be done to ensure optimum freshness of each stem.
Our team is constantly on the go with phone calls, web orders, wire orders, customers in the gift shop and making floral arrangements, time seems to fly by. So that we can perform deep cleaning and follow CDC guidelines, we shortened our opening hours to 9am -4pm. We are looking forward to going back to the normal 9-5 regular routine.
Our website and social media presence have become increasingly popular and we try to dedicate one-hour per day to freshen each site and reach out to our customers.
Why do your customers select you over your competitors?
Lacy's Florist is renowned in the floral industry as one of the best-of-the-best. We are proud of our artistry and are often called upon to craft unique and custom arrangements for special occasions. Our designers are some of the finest in the industry and have an average of over ten years floral design experience.
Why is your business located at this site?
Lacy's Florist has been in the town of Orange for over 70 years and at 120 West Main Street for over 30 years. The store is well recognized and easily accessible by car and foot. We love being on Main Street and participating in many of the local community events.
What are 3 things shop owners should think through when they initially decide to start a business?
A website and social media presence is just as important as the operational hands in the shop. I am thankful we had our social media platforms up and running at full speed before COVID-19. It was what helped keep us open.
Make your email address short. My first mistake was making ours lacysfloristoforange@(domain removed).com … what was I thinking!
The first few years can be quite overwhelming. I find it took five years to get both our shops running to where I am not working 24 hours a day (now I am only working 14. 😊)
When you're overwhelmed, what brings you back to focus?
My family: A good example of that was the recent Mother's Day week. Roger (my fiancé) worked tirelessly on my website and FaceBook/Instagram so I wouldn't have to worry about it and my daughters all came in to help on the busiest days.
My Staff and Customers: I know I make a difference to the people who work for me and those who we serve. I genuinely enjoy being a part of the local community and seeing the smiles of our customers as we hand them a beautiful floral arrangement.
Tell us about a few of the best business decisions you've made to date?
Converting the "empty space" in Lacy's into a gift store to carry local and popular products.
Wrapping the Lacy's delivery vehicles with custom floral designs. Our vehicles are instantly recognizable and bring a smile to your face
Setting aside time every day to answer emails. In today's wired world, a same day answer is expected or you've lost a customer.
Please share one mistake or obstacle from your business experience. How did you bounce back/overcome it?
Not having enough capital to start up the business and receive a regular paycheck. I was fortunate to secure a loan and keep everything afloat until our weddings and website built up to what it is now.
Is there a cause or organization that you contribute to that you're particularly passionate about?
I believe that my Christian belief and standards has helped me through many obstacles in my life. I like giving to a local church because I know how they serve the community. I also believe in helping the community and being a part of different missions. We donate to local groups or organizations that we know are working within and supporting the Orange County community.
How do the social, economic, and technological environments impact your business?
Being a small business that relies on the local customer base, we are greatly impacted by socioeconomic factors. The recent closures, guidelines and rules mandated by our state is a good example of the entrepreneurial thinking we needed to keep our small businesses going.
We needed to think outside the box with new products and offer contact-less deliveries and curbside pickup. Technology is constantly changing, and my fiancé has been a great help with ensuring we stay current and I'm able to keep an eye on work no matter where I'm located.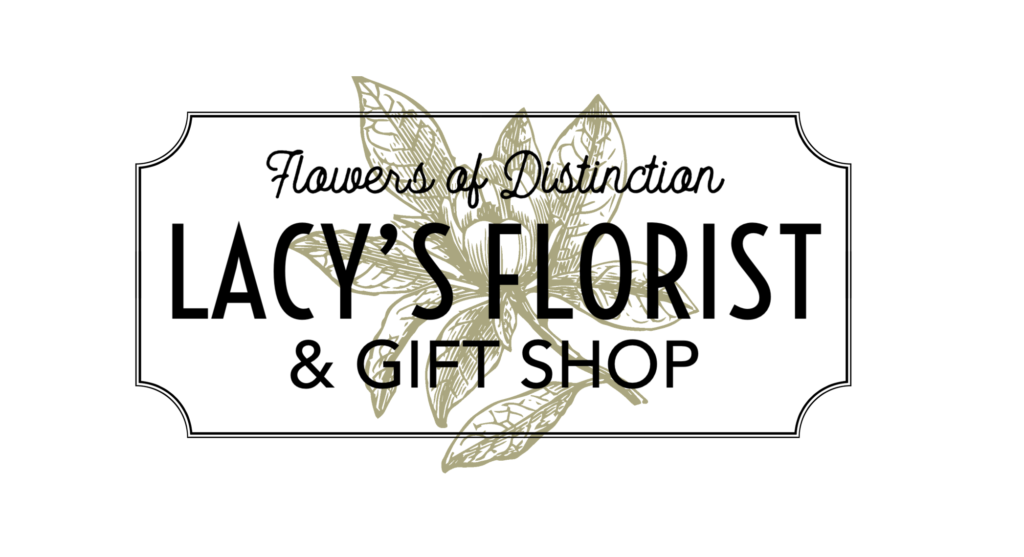 If you could hire someone to do just one thing that you sort of loath doing, what would it be?
Initially my worst job was working on payroll and state taxes but, thankfully, I have handed that over to Diane's Bookkeeping. Now, I would have to say that staff scheduling is my nemesis – peoples lives change so much and with seven employees at Lacy's Florist and six employees at The Flower Cottage, it can get a little crazy.
Tell me about a few of the places on your travel "bucket list."
I love to travel however never seem to have enough time. A few places on my bucket list are Maui, Hungary and Italy where I would like to take 30 days and live in each locations to learn more about the culture and surroundings.
What's the one thing you would eat, if you could only eat one thing for the rest of your life?
Panang Curry or Butter Chicken with naan or mango sticky rice or French fries or Reese cup Blizzards.
This is too hard – I love food too much! 😊
The forced isolation of the Covid 19 pandemic has made us sincerely appreciate the luxury of stepping into a shop, browsing, sampling, spending, chatting. The pandemic has devastated our nation's small shops. Running a store is a hard job any day. It takes guts, energy, and a leap of faith to make it all function. In the midst of the pandemic burden, our shop owners are taking the time to share their stories with us. In upcoming emails, we're giving some much-due recognition to the people who make the magic happen where we sell our products. Thank you for taking the time to read them.

Kerensa