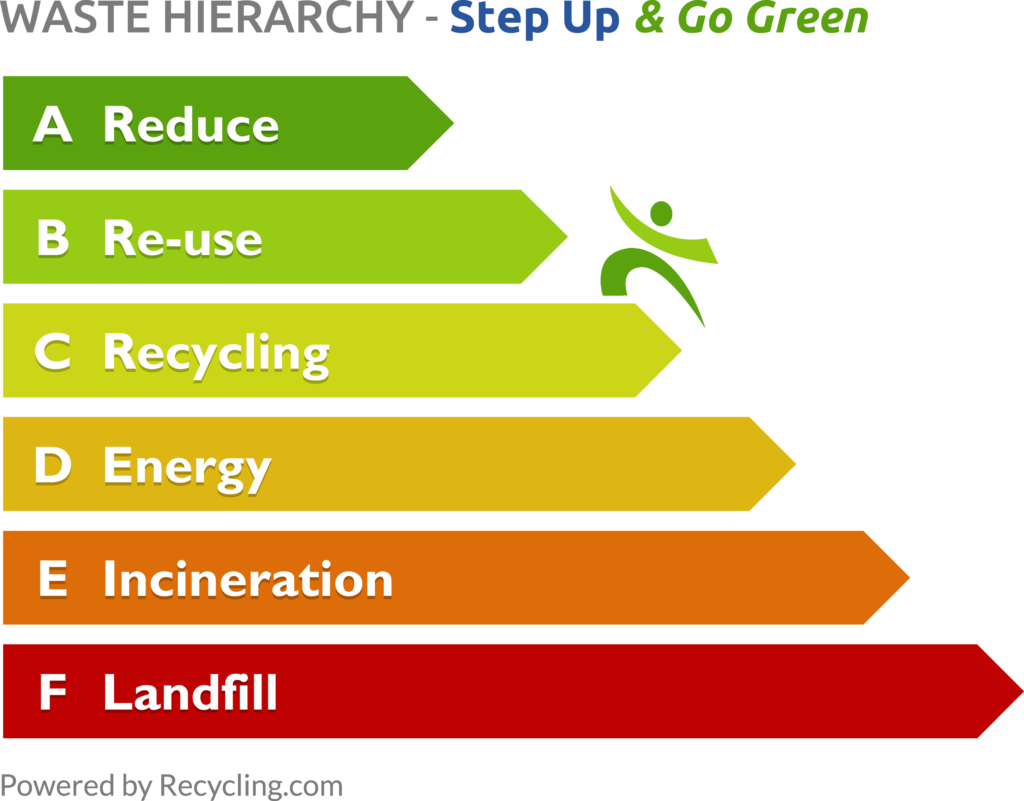 The Lansink's Waste Hierarchy, courtesy of recycling.com, breaks down the six currently considered steps of how we can all rethink our waste.
As a small business, we use a lot of plastic packaging, and we're troubled by this fact. What can we do? We seek, we think, we stay alert, we learn. And, we depend on you, our customer. We want to create products and opportunities that empower us, as business-and-consumer partners, to reduce our plastic container consumption, and re-use our plastic containers as much as possible, and recycle when necessary.
What are we doing about it?
Since founding our business, we've tested alternative containers such as glass and paperboard for our skincare products, with less than fantastic results. Glass is pretty and fully recyclable, but customers reject it for fear of dropping and breaking it on the bathroom floor. Paperboard is compostable, but has limited options and falls apart too soon.
Meanwhile, we're constantly on vigil for plant-based, bio-degradable, or post-consumer recycled plastic containers. We reach out to manufacturers to find out about their newest offerings in sustainable packaging. Currently, possibilities are thin on the ground, with ready-made sustainable container options not matching our needs, and quantity minimums for proprietary designs way beyond the reach of tiny businesses like ours. Think 50,000 units.
The recent headlines about Pepsi and other brands switching to bio-resin plastics was exciting, so we took a deeper dive, and learned that these new plastics aren't, in fact, sustainable. They contain 30% plant-based material, with the balance still petrol-based. This material is not recyclable, and in our book, represents egregious green-washing. 🙁
Where does that leave us?
So here's where we are until we get a real, 100% sustainable (hopefully hemp-based) plastic: We package our products in industry-standard, easily-handled, re-usable, recyclable containers that work across multiple products.
We package our lotion and liquid soap in pump bottles, and our salve (and our retired clay mask) in jars. We offer refills of our liquid soap in large plastic pour-spout bags, and encourage you to purchase the refills when you run out. Reduce your plastics consumption by re-using your perfectly good pump bottle, and take advantage of the savings our bulk refills offer. We're considering offering refills on our lotion too. Please tell us what you think!
We're phasing out the plastic-lined kraft bags that we used to package our bath salts, and switching to pour-spout bags, because the kraft bags are not as easily recycled. It takes more energy to separate the materials (if the used packaging even makes it to a recycle processing plant). Terracycle explains the recycling process here in one of the best breakdowns we've yet found.
You can re-use these durable containers again and again, and get all the product out with minimal fuss. Did you know that the average container leaves about 16% of the product inaccessible? It increases purchase frequency if you throw it away, or you have to cut the package, rendering it un-re-usable. Our packaging choices are relatively easy to take apart and clean with hot water and dish detergent, and then sanitize inside with rubbing alcohol before drying completely. When you're refilling the liquid soap pump bottle with more liquid soap, as long as you haven't added anything else such as water, it probably doesn't even need cleaning.
The important thing is to keep pushing and demanding innovation. Let's get there together.